https://www.hoonigan.com/
On today's episode of Daily Transmission, Nads brings in Sean Morris who shows us how to legally import unique JDM cars into the states the right way.
Made a little bit of a mess

Our old friend, wait. He isn't that old. Or maybe he is. Anyway, John Naderi invited us out to a Hoonigan Daily Transmission. Since we needed to bring something that we could "scumbag" in, we decided to bring the #bluecar. Not driven much since R's Day, it got moved from Cypress, to the Hanger, to my house. Still had more than 1/2 a tank of race gas, and good tires.

The one thing I wanted to try was a center spin. Not much space at Hoonigan, with the car on 1 bar of boost, 275 RE71R all around, plus the grip there, I had them put some water down to try and help me out a bit.

The first time, I got it center spinning fairly decently, but ran out of room. The 2nd time was a bit more like a donut than a center spin, but during it, I managed to tap the dock with the exhaust. Results of that below.



May have tapped the ramp
Wore a little bit of RE71R off the #bluecar
The RE71R picked up a bit of rubber from Hoonigan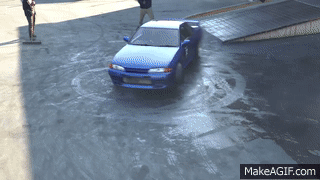 Buy USA Legal R32 Skylines at Importavehicle.com!
Buy-R.com for Nissan Skyline GT-R and GT-R parts.