The details on the
STILLEN 370Z Brake cooling kit
have just been released today. If you track a car, you know that stock braking systems leave something to be desired. The brakes convert kinetic energy to heat, by rubbing the brake pad against the rotor. This friction causes heat, and when you are doing it right, it causes a lot of heat. Even if you have upgraded brakes and rotors, keeping the rotors cooler, will help prolong the life all all the braking system components.
The engineering team at STILLEN has developed a complete bolt-on
Brake Cooling Kit for the 2009-2012 Nissan 370Z
designed to do just that, reduce brake temperatures by as much as 25%
. Months of testing, development, track and road testing have gone into this setup, which works both with the factory fascia, as well as the upgraded STILLEN Polyurethane Front Fascia which features aggressive styling and larger air ducting areas perfect for increasing the air available for brake cooling.
Features
• 1/3 decrease in rotor temps versus vehicles without cooling kit
• Decrease in braking distance - Reduction in brake fade
• Prevents warping – Reduced chance of pad glazing - Extends life of brakes
• Reduces the chance of brake fluid boiling
• Decreases the chance of catastrophic damage to brake system
• Improved track time and longer track sessions
• Decreases the risk of "370Z ice mode"
• No cutting required
• Constructed out of 304 stainless steel
• Consistent rotor temperature for reduced thermal stress on rotors
STILLEN Fascia with Cooling Duct Fangs
STILLEN Quality Components
• 6 foot silicon rubber air duct hose lined with a cylindrical brass covered steel braid designed specifically for use in high temperature racing applications.
• Constructed out of laser cut 304 stainless steel and formed on a 7 axis CNC press brake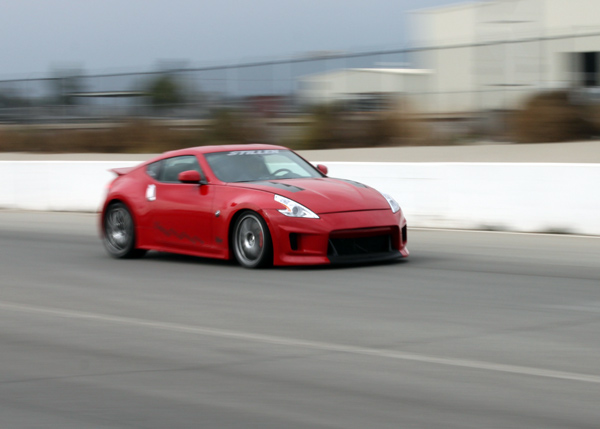 To test the performance of the STILLEN Brake Cooling Kit, our engineers pushed the kit to the limit at the Auto Club Speedway in Fontana, California. Testing was performed with the brake cooling kit connected on one side, and not the other. Thermo-couplers were installed on the inboard friction surface of the rotors and connected to professional, race grade, data logging equipment. This testing environment ensured accurate readings under identical testing conditions. During testing the non-cooled rotors reached 600 degrees while the cooled side only reached 456 degrees. This is a temperature difference of over 140 degrees or 25%. The Brake Cooling Kit outperformed our expectations, and decreased rotor temperatures by 25% from side to side. The cooling kit spent a good amount of time with STILLEN's engineers, and the results are a testament to their dedication and hard work. Testing showed not only does this kit keep the brakes cooler, but it better manages the temperature keeping the rotors at a more consistent temperature thus reducing the thermal cycling of the rotor